Caring For God's Earth
Here at Christ Church Toxteth Park we are committed to preserving and protecting the natural environment that God has entrusted to us as a both a church and as a community.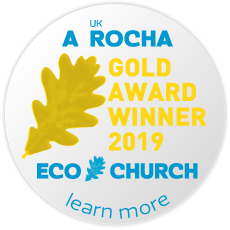 Christ Church congregation are delighted to announce that we have been awarded Gold Eco Church by A Rocha UK.
Sam Illingworth who helped take Christ Church through the process of audit toward the Gold award said:
"This is a great opportunity to demonstrate to the city of Liverpool (which declared a climate emergency earlier this year) the role that the church can play in helping to protect and repair the environment."
Christ Church has served the local community, covering part of Toxteth, St Michaels, Princes Park, Lark Lane, and Aigburth for almost 150 years.
Rev. Keith Hitchman recognised that the people of Christ Church, Toxteth Park have long been committed to promoting environmental awareness and practicing sustainable living, stating:
"As Vicar it has been my privilege to be involved with church members in working towards receiving this prestigious award. Our work does not stop here. We continue to partner with the Diocese and local community groups in fulfilling the biblical mandate to care for the Earth as God's creation, and to campaign on green issues and for climate justice."
Annie Merry CEO of Faiths4Change said:
"This is the first Gold Award for the Liverpool Diocese, it is absolutely wonderful, well done to everyone at Christ Church TP, you have inspired us all to push forward in our work to reduce the impact of catastrophic climate change."
This award is the culmination of much work by the congregation at Christ Church TP, who have learned together and worked for years to make the building more welcoming and more effective. In 2005, the congregation dug up the tarmacadam around the church and planted flowers and fruit which local people are very welcome to harvest and enjoy. In 2008, pews were removed from both side aisles and the rear of the building, providing space for exhibitions and flexible worship. In 2017, we erected our first marquee inside the church; as well as creating a more intimate space for worship, the tent is also far less wasteful of light and heat. In 2018 Christ Church TP received a Heritage Lottery Grant for urgent repairs and renovation of the aisle roofs, which has made the building watertight enabling the stone and wood to dry out as the ambient temperature rises. When this work was complete, a second marquee was erected, a dedicated space for our innovative Sunday School.
Everyone involved in the life of Christ Church TP is passionate about fairness and justice in God's Creation, of which we are all part. We recognise our role as stewards of the Earth's resources and have a strong ethos of social justice for all, "thinking locally and acting globally", including human rights, ecology, climate justice, mental and physical health, and well-being.
The congregation and the local community including our Green councillors are really pleased to receive this award. Now we have a real opportunity to celebrate the passion and commitment of everyone for social and climate justice.
Annette James Licenced Lay Minister said:
"Christ Church Toxteth Park is an inclusive church; people of all ages, cultures, all faiths and none, are welcome and encouraged to come and share together, how we can care for the whole of creation."
Churchwarden Michael Galbraith reflected:
"Two hundred years ago, merchants and bankers in Liverpool (and the rest of the British Empire) became extremely wealthy on the back of slavery. The abolition movement opposed slavery because it is morally wrong – not because it was unprofitable. Some companies continued to profit from slavery by selling kidnapped Africans to plantation owners in the States. We are in a parallel situation now with the planet – we have enslaved her – we exploit her natural resources (often displacing indigenous people to do so) and give her back climate changing pollution in return. Britain is currently hiding a huge proportion of its carbon emissions by not counting those associated with imported and exported goods and raw materials and exported waste. Western industrialized nations are in effect stealing a stable and habitable climate from non-industrialized peoples and from future generations everywhere. This is unjust. We have a moral duty to fight climate change. The fact that this might make life more bearable for us and for our children in the future is a bonus."
Annie Merry CEO of Faiths4Change commented,
"Faiths4Change have led a partnership approach to working towards Bishop Paul's call for the Diocese of Liverpool to become a Gold Eco Diocese. In January 2019, we had 1 bronze awarded church – St Martin's, Kirkby. We now have 41 registered churches including 9 bronze and silver awarded churches. Christchurch Toxteth Park has set the bar at the highest level by achieving a Gold Eco Church award."
Christ Church TP is open every Sunday 10.30am for worship and every Tuesday from 10am until 1pm for reflection, to bake bread and make soup for lunch, and to share ideas on how we can better treat the Earth. Everyone can come and enjoy the architecture of the building, learn more about the heritage of the church (built in 1871), and share their stories.
Christ Church TP is one of the city's six surviving 'Horsfall' churches, built by the Horsfall family who funded and designed some of the city's most important religious buildings. It is home to treasured stained-glass windows including one by Gustave Hiller which shows Liverpool's Anglican Cathedral under construction.
When applying for an Eco Church Gold award, an A Rocha UK staff member must visit and assess the church. Simon Brown, A Rocha UK's Speakers Coordinator, who assessed Christ Church TP said,
"What was inspiring was that the team saw this not as an achievement, but as a recognition of where they have got to so far. They discussed their next steps, and it was apparent that the ethos of creation care was embedded into their lives, both within the church and the communities within which they live. It was evident that the Gold Award, that I would have no hesitation in recommending, is only seen as a stepping stone in the church community's work to care for God's world."
For more information on Eco church see the following websites;
Contact for further information: Annette James on wisewomanmail@gmail.com