Lark Lane Big Tidy Up
Lark Lane Neighbourhood Association will be holding a litter pick of the area.

Hi everyone,
You may have noticed there's lots of litter and rubbish on Lark Lane at the moment. We're doing the following to try and get the Lane looking cleaner:

* We've asked our local councillors to request more street cleaning from the City Council as there are so many people eating and drinking outside on the Lane and this is generating more litter.

* We'll be visiting all the restaurants and cafes on Lark Lane in the coming week to ask them to help by sweeping up any litter from their customers.

* We're holding a Big Tidy Up litter pick to help clear the litter from the Lane and the surrounding streets.
If you're free on Sunday 12 September it would be great to see you. We'll start at 3pm outside the community centre and we'll finish up at 4pm at Christ Church Linnet Lane for tea, coffee and home made cake.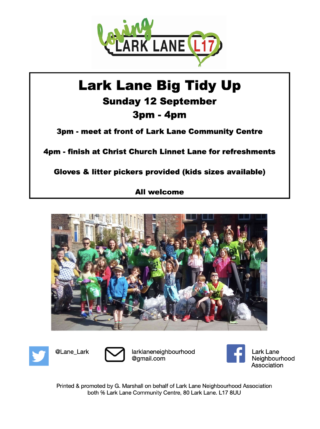 Sunday 12th September 2021