Remembering Peter Gibbons 1 Year On
A year ago we lost our dear friend Peter Gibbons. To commemorate we have posted Annette's sermon here.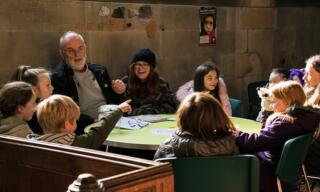 Peter Gibbons…1954 - 2020
"Pete was good he helped everyone, why would God take him away?" James aged 8 Christ Church Sunday School March 2020.
How could it happen that our Pete has gone…
Pete Gibbons touched so many lives, many of us loved Pete, we loved him because he cared, he cared for everyone. So many people will have stories to tell of how he encouraged supported and stood alongside them. Pete was someone you wanted to keep in touch with. He trained as a teacher and many of his pupils from primary school days, remember him encouraging and enabling them to learn, to be brave and to strike out in the world. As they grew in knowledge and stature, Pete was proud of them, of what they achieved in life. Always the teacher Pete led Christ Church Sunday school the children were attracted to him, learning together to know Jesus, and to live with Gods transforming love, not bound by rules but liberated by love of life.
Pete had a deep faith in Jesus, it has to be said he struggled with the old testament. Pete was inspired by Jesus and took seriously Jesus calling to make a difference for good in the world. Pete saw the good in everyone, the homeless, those struggling with addiction, those with mental or physical ill health, those on the margins. Christ Church folk will recall how he cared for our friend Rita, bringing her to church every week from the residential home, until she was too ill, visiting her with Emily and Oscar, sharing trips to the park, keeping her engaged with the church community. Just one example of how he never gave up on people. Pete loved meeting new people he was a great support to those who came seeking asylum, and he loved celebrating with us at times of great joy ( usually when Liverpool won a match), with that great shout and laugh of his – and we miss his crazy tee shirts.
Pete was a big man with a big heart – there was no pretence – what you saw was what you got… He would tell it straight – not slant as many of us who are less courageous. That was sometimes hard to hear. He loved art and beauty and enjoyed sharing books, stories and pictures from the many exhibitions, drama and theatre productions he went to.
Our Pete loved God, he understood the gospel to be about freedom, liberation – he took seriously the words of Jesus – to love your neighbour as you love yourself, to share all that you have and all that you are, to care for the widow, the orphan and the stranger that is within your community. Pete had a passion to make things better for the people that he met, in whatever way he could. Having met men, women and families from local hostels, he made it his mission in life to ensure they did not go short of essential items, he would encourage everyone he knew to gift all manner of items, clothes, toiletries, sanitary products, towels, sheets, bedding, socks and underpants. (all gathered under those blue sheets on the left (my right) over there. To make this happen Pete used his networks,
speaking at churches and school assemblies, inspiring adults to be generous to donate goods and money, encouraging children to make cards and get their mums and dads involved. He used social media to pull in all those he knew, to be part of his generosity, to share items so he could put together parcels in bags like this – (show bag) with cards and gifts at Easter and Christmas.
Jesus came that we might have life in abundance, to immerse ourselves in living life to the full, and Pete most definitely did that – like Jesus he never ducked a challenge – oh, and he could be challenging, he challenged the church and the state, wherever he saw injustice, or things that were just plain wrong. Pete did not suffer fools gladly
The Zulu people have a word for God omkhulu uNkulunkulu - big, big, and the God that Peter knew was certainly big-big – Pete was a living example of his big-big God – Bigger than fear, bigger than insecurity, our Pete had great courage. In health and in sickness he bore witness to his faith, recognising that he, like us was called to live a life of courage, love and reconciliation, in the ordinary and extraordinary moments of each day. Pete walked with God, with 'the other'
We are pilgrims on a journey
And companions on the road,
We are here to help each other
Walk the mile and bear the load
Pete's pilgrimage on earth is done…he was kind, humble, caring, grumpy and gracious, passionate about children, young people, LFC, and caring for those he knew, especially those on the margins… Liberated now from the body that slowed him down…Go fly Pete: