Soup Group
sharing bread and soup, sharing life.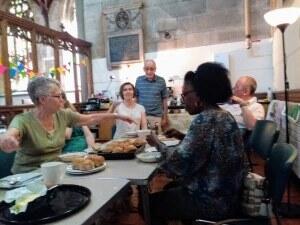 Coronavirus
Soup Group is postponed until further notice
Why not drop in and join us at Tuesday Soup Group?
Christ Church is now open from 10am – 2pm every Tuesday, anyone is welcome to join us and there is no cost.
We will share a cuppa and then make (& eat!) bread and soup.
Feel free to bring your knitting, your sewing, or even a story or poem you have written to share with the group. Up to now our Tuesday Soup Group activities have included:
making bread
chopping vegetables and making soup
meeting the architect and builders
learning all about the building
discussing vision and plans for Christ Church
planning for future developments
listening to music
storytelling
chatting and getting to know each other better
We're even planning a Christ Church recipe book as the soup is so delicious!
Hope to see you there soon.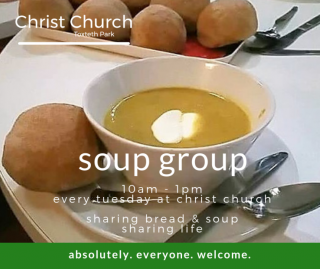 Tuesday 8th December 2020
(every Tuesday)