Our Building
Christ Church is a Grade II* listed building. It was opened in 1871 and is one of the largest in the area being built to seat 800!
Christ church has held a place at the heart of the community near Sefton Park for almost 150 years, since it was consecrated in 1871 by the then Bishop of Chester.
Christ Church is one of the city's six surviving 'Horsfall' churches, built by the Horsfall family who funded and designed some of the city's most important religious buildings. It is home to treasured stained-glass windows including one by Gustave Hiller which shows Liverpool's Anglican Cathedral under construction.
The church has one of the best collections of WW1 memorial brasses of any church in Liverpool. When they were commissioned 100 years ago, Christ Church would have been one of the richest parishes in the country.
The church has continued to serve the local community covering parts of Toxteth, St Michaels, Princes Park, Lark Lane and Aigburth for almost 150 years.
Now thanks to National Lottery players, a grant of £214,600 was awarded through the Heritage Lottery Fund's Grants for Places of Worship scheme.
The congregation and the local community were delighted to see the renovation of the lower roofs, which had suffered severe weather damage over the years, causing temperatures to plummet inside the church in winter.
Our Heritage

As part of the heritage restoration work we have produced a booklet providing a virtual tour of the church building. We are indebted to the work of churchwarden Tinho da Cruz in researching and creating this resource. Click here to download a pdf of the booklet which can be read while touring the church.
Churchwarden Tinho da Cruz said, "We are always learning from those who come and share their experiences of Christ Church with us; baptisms, weddings, Sunday school attendance or singing in the choir. We want the building to be a welcoming place for everyone. The church has some notable stained-glass windows and houses the best collection of WW1 brass plaques anywhere in the city. At our recent heritage open day, we welcomed the daughter of Bernard Miller, the designer of the Reredos (the screen behind the altar). She was delighted to see her father's work which she remembered from his drawing board, and was pleased to see the work of restoration to the church roofs."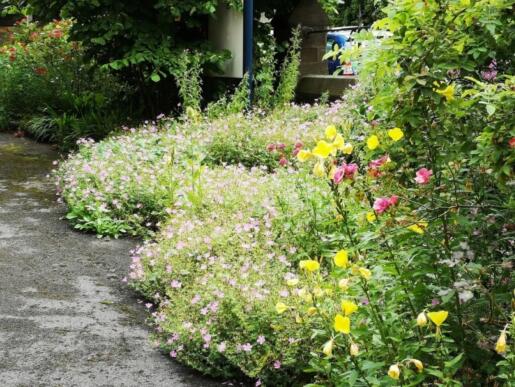 Our Gardens
We value our green spaces around the church and they are enjoyed by many from the local community who walk through on a daily basis. In line with our Eco church aims we garden them to encourage wildlife and pollinators so some areas are left more wild. We compost what we can and are creating areas for native wildflowers. We also grow some edibles and herbs, both for use by our soup group and the local community.